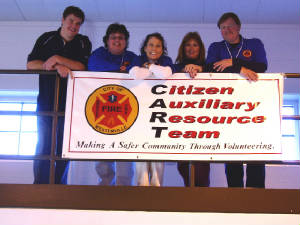 The Citizen Auxiliary Resource Team (C.A.R.T.) is a program open to all graduates of the Westerville Division of Fire Citizens Fire Academy and individuals that possess special talents of interest that may be utilized by the Westerville Division of Fire.

Our Mission Statement:

Our mission through volunteer work is to support the Westerville Division of Fire, its members, and programs, minimize life loss, suffering, and property damage resulting from fire, medical, and environmental emergencies within the community through public education, code management, and incident response.
As volunteers we will work together to support the Division of Fire and its mission of providing professional response teams that are well trained, equipped, and operate safely. We, as well as the Division's members are comprised of individuals who are fair, honest, and ethical, and who strive to treat all with respect and dignity.
We endeavor to support innovative concepts providing cost effective services that are responsive to the needs of the Westerville Division of Fire, the community that is serves, and the advancement of the profession of which it belongs.






















Some areas where members are utilized to improve the Division of Fire include:

General administrative support

Support at training activities

Support at public education activities

Support at public relations activities

Support in duties assigned by Division Chief

Membership in C.A.R.T. can involve as much or as little time commitment as you choose. There is something for everyone! Come check us out!!